Who is Craftstone Knives?
Those who love to work in the kitchen and outdoors love their knives to last long and be of high quality. Most people just rely on high-profile brand names to provide both features when choosing a knife, but the founder of Craftstone Knives, Gabriel Schmerler decided to give knife lovers the option to make their knives truly their own by providing customization services on high-quality kitchen knives.
According to him, Craftstone Knives are the most beautiful knives in the world, backed by a lifetime guarantee.
What Craftstone Knives needed
With the large range of options possible in the customization of each Craftstone knife, the company needed a method to reduce the time it took for their interested customers to order. They also needed a way to reduce the instances through which errors could occur in orders – they wanted their customers to enjoy a what-you-see-is-what-you-get service.
It was not enough to list all the options and attributes for each knife on Craftstone Knives provide you with knives with blades made from superior German steel.
In addition, you can choose a knife blade style, add text or image engraving to both sides of the knife, and even precious metal rings to the knife before and after the handle. You can also add a gemstone to the base of your knife, and choose the perfect handle, from smooth marble to polished wood. You have the option of customizing a whole knife set or individually too.
The diversity in their custom knives products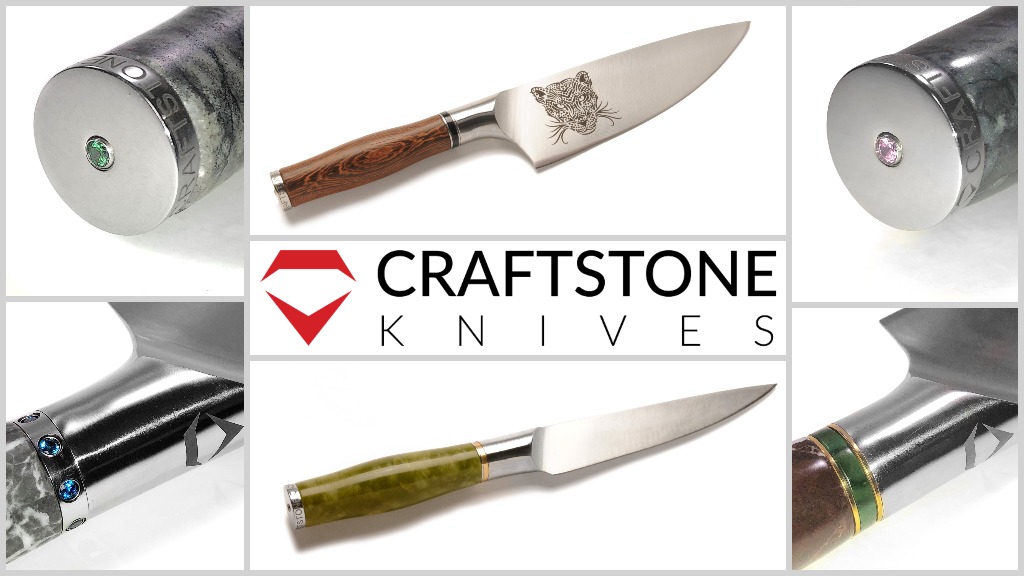 Craftstone Knives currently has 9 knife blade styles, 29 different handle types made of either stone, imported wood or domestic wood, and 39 different types of gemstones including semi-precious stones, precious stones, genuine diamonds and cubic zirconia stones. Each knife can be engraved on, with specified words and/or images, on both sides of the blade and there are optional rings in 4 different styles, with precious stones and layered rings in 38 different styles.
The problem was that most potential customers tended to abandon their carts due to the long process and turnaround time.
That is where the visual product configurator came in.
How did the Visual Product Configurator plugin meet those needs?
Our visual product configurator plugin for WooCommerce allows the store owner to provide an easier, shorter process for making orders in their store. The interested customer can build the product they want visually, clicking and selecting from the choices made available by the store owner until they are satisfied, and then proceed to order the product. The whole ordering experience is made visual, and a lot shorter than without the plugin, and the store owner gets the final picture of the customization.
The Craftstone Knives touch
The Craftstone Knives online store required a few custom tweaks to the plugin and its add-ons. For instance, Craftstone Knives founder, Gabriel Schmerler wanted the customer to be able to upload their images or choose from the available gallery. The Image Upload add-on already covers this feature, but he needed the image to be resizable by the customer, and also movable to alternate positions. He also needed that the user should be able to add text that could be dragged or repositioned anywhere on the knife. Other customizations we made include:
Allow multiple configurations to be linked to a single product.
Allow the use of thumbnails under the preview section on the design page.
Each thumbnail represents a checked option from the first component 'Blades'.
Each option from the first component is linked to a configuration.
Allow the user to circulate from one configuration to another one by clicking on a thumbnail.
Importation and integration of a personalized gallery.
Allow the user to be able to add all the configurations made to the cart at the same time.
and more.
These requests were carried out to get the Craftstone Knives WooCommerce store to the current stage of excellence.
How does their custom knives store work?
Craftstone Knives online store now gives you one interface to make all your customization choices. What would have taken a whole lot of back and forth emails between the store's representative and each client, has been reduced to five major steps:
Choose your knife blade style, your handle, your gemstone at the knife's back, your optional rings, and any engraving you want to add, be it text or an image.
You also have the option to save your custom knife design for later or remove all the customization you have made to start all over again.
By using our Visual Product Configurator plugin for WooCommerce, Craftstone Knives has been able to increase custom knives sales astronomically. The turnaround time it takes to make orders has been reduced. Gabriel Schmerler and his team have also had time to consider other sources of services, e.g. corporate gifting because the error margins, and the production time has been greatly reduced.
In Gabriel Schmerler's own words:
"My experience working with Orion Origin, the developers of VPC was excellent in every step of the process. They offered great friendly, professional and knowledgeable support. The software plugin they developed has allowed me to offer unique customizable features to my chef knife designs that my customers love, plus it also has resulted in much higher sales as all my customers choose my brand because they enjoy designing their own custom knife.
I sell pre-designed chef knives in a traditional click-and-pay eCommerce format, I also offer my customers the ability to custom design their own knives using the plugin Orion Origin developed, called Visual Product Configurator. At least 80% of my customers use VPC, the online custom design tool that Orion Origin developed.
The online experience and feedback from my customers is great. They love the experience of custom designing their knives, it is easy for them to use and it has really increased my brand's sales."
Note: the features described in our case studies are personalizations (custom works) of the plugin requested by the clients. They are not available neither in the standard version nor the free version of the plugin.