QuoteUp – The Ultimate 'Quote to Order' Solution for Woocommerce
In the E-commerce technology space, over 37% of the sites use WooCommerce. This makes WooCommerce, by far, the most popular ecommerce platform.
It can be used to sell a wide range of products, may they be physical goods, virtual downloadable products, variable products, grouped products, and so on. And with the extensions available you can take things further and sell services and custom solutions as well.
One such extension working to this end is QuoteUp–  the proposal management and 'quote to order' plugin for WooCommerce.
What is QuoteUp?
Created by WisdmLabs, QuoteUp is a quotation management and sales plugin for WooCommerce. It allows the WooCommerce store owner to add an additional tier to the product purchase process.
Instead of (or along with) allowing customers to purchase a product directly off the store, you
can add a quote request option.

Interested customers can send you a quote request for one or more products. Upon receiving a
proposal request, you can easily send them a quote by editing product quantity and prices.
Accepting the quote takes customers directly to the checkout page to complete the purchase, making QuoteUp a comprehensive quote to cart solution! 🙂
Who's QuoteUp For?
In practice, QuoteUp can be used on any WooCommerce store. However, it's a must-have for stores which cater to or sell:
High-Priced Products
High-cost products have a longer buying cycle. An interested buyer almost never makes a purchase in one go. Certainly the resistance to request a quote is comparatively lesser than making a purchase. Hence, Quoteup can be used to convert these buyers and up your chances of a sale.
Wholesale Suppliers
Wholesale buyers or bulk purchasers are always looking to negotiate on the pricing. Here's where QuoteUp can act as an intermediary. With the ability to track quote requests and the ability to send and resend quotes from your Woo store backend, it presents an easy to manage negotiation platform.
Services or Custom Solutions
Services and custom solutions do not have a fixed price. Let me rephrase that they cannot have a fixed price. But that does not mean you can't sell them online. The price however, has to be set upon understanding a customer's requirements. As a quote to order solution, QuoteUp can be used for this very purpose.
Catalogue Only Stores
Catalogue only stores do not have a purchase option. Shoppers can simply browse products and send across a purchase request to the store owner. These stores also known as 'Quote Only' stores can be easily built with WooCommerce and QuoteUp.
What Makes QuoteUp Unique?
QuoteUp is packed with a cool list of features which makes the plugin unique:
Quote Request for Multiple Products
With a simple to add request quote button, interested customers can easily initiate quote requests for individual or multiple products. You can even pick and choose the products you want to display the quote request button for, or add it on all product pages.
Easy Quote Request Management
An email notification is sent to the WooCommerce store admin each time a quote is requested. Along with this the admin each quote request is stored in the backend. This helps the admin manage requests without having to leave the store.
Quick Quote Creation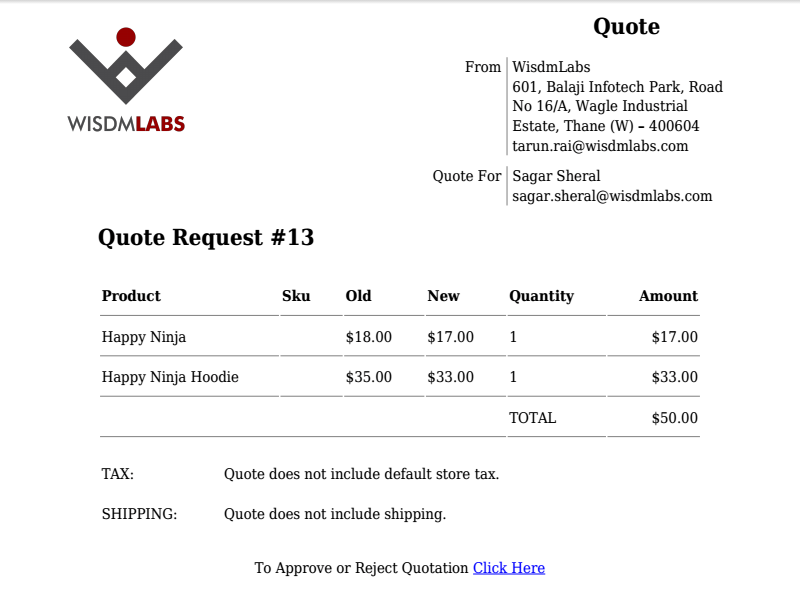 The administrator can create quotes by adjusting the product prices and quantities. On creation of a quote, a PDF is automatically generated and can be emailed to the interested customer, with a custom message.
Customers on the Forefront
When customers receive a quote, they can either accept or reject it. Accepting the quote takes them directly to the checkout page with the products added to the cart, to complete the purchase. The prices are locked in so that the customer can purchase the products for a special price.
Complete Negotiation Engine
QuoteUp adds a negotiation engine, that allows the store owner to adjust and resend the quote to the customer till a mutual agreement is reached.
Customizable Quote Request Form
QuoteUp allows you to customize the quote request form. May it be changing the colors to match your store's theme, or adding extra fields to capture additional customer details.
Save Customers' Time
The quote request button is added on WooCommerce single product pages as well as archive pages such as Shop or product category pages. Having the option on the archive page saves a customer the effort of having to navigate to an individual product page to make a quote request.
WooCommerce Catalog Store Creation
QuoteUp provides options to hide the product price and 'Add to Cart' button for selective or all products in your WooCommerce store. By hiding the add to cart button across all products, you can convert WooCommerce into a Catalog or Quote Only store.
The Bottom Line
With a robust quotation management functionality, a customizable proposal request form, a powerful negotiation system and the inbuilt ability to convert WooCommerce into a 'Quote Only' store, QuoteUp is THE quintessential 'Quote to Order' plugin for WooCommerce.
For those still in doubt, WisdmLabs provides a detailed documentation of the plugin's working, and a demo video for a quick overview.
Got questions? Ask away!