Table of Contents
Introduction
Flabbergasted! That is how the increase in sales leaves store owners when they offer discounts. There are different ways of offering discounts; BOGO, Role-based discounts, Quantity based discounts, wholesales pricing, coupon codes, etc. Coupon codes have shown, over the years to be an effective and efficient way of drawing attention, increasing sales, and retaining loyal customers.

Here are some top statistics and facts about Coupons;
The above facts and statistic only affirm and proves the Power of Coupon!
When offering Coupons as a marketing strategy for your online store, it's a win-win situation for both you and your customers. Coupon-based promotions help to increase the sales and revenue of your WooCommerce store, while your customers get more products at profitable discounts thereby saving more money for themselves which encourages them to buy more.
Knowing the benefits of coupons is not enough, knowing the plugin best suited for your online store is very important as well. The below WooCommerce discount code plugins offer the best features and good pricing plans. They also have great reviews and positive feedback.
Why should you use a WooCommerce discount coupon code plugin?
Using a WooCommerce discount coupon code can be a beneficial strategy for both e-commerce businesses and customers. Here are some compelling reasons to use WooCommerce discount coupon codes:
Attract and Retain Customers: Coupons can attract new customers to your store and encourage repeat business. Offering discounts creates a sense of urgency and incentivizes potential customers to make a purchase.
Increase Sales: Coupons can boost sales, especially during promotional periods or holidays. Shoppers are more likely to make a purchase when they perceive they are getting a deal or saving money.
Clear Marketing Tool: Coupons are a straightforward and versatile marketing tool. They can be used in various marketing campaigns, such as email marketing, social media promotions, and affiliate marketing, to drive traffic and conversions.
Customer Loyalty: Offering coupons to existing customers can foster loyalty. Customers who feel appreciated and rewarded are more likely to return to your store for future purchases.
Abandoned Cart Recovery: Coupons can be used strategically to recover abandoned shopping carts. Sending a reminder email with a coupon code can entice customers to complete their purchase.
Cross-Selling and Upselling: Coupons can be tailored to encourage customers to buy related or higher-priced items. For example, "Buy one, get one 50% off" or "Spend $50 and get $10 off."
Inventory Clearance: Coupons are effective for clearing out excess inventory or promoting slow-moving products. You can create specific discounts for these items to help reduce storage costs.
Tracking and Analytics: Coupon codes can be used to track the effectiveness of different marketing campaigns or channels. By analyzing coupon usage, you can refine your marketing strategies.
Customer Acquisition Cost (CAC): Coupons can be used as a cost-effective method for acquiring new customers. You can calculate the CAC associated with each coupon campaign to assess its efficiency.
Competitive Advantage: Offering discounts can make your store more competitive in the market. Customers often compare prices and look for deals when making purchasing decisions.
Personalized Marketing: Coupons can be personalized for specific customer segments or based on customer behavior, providing a tailored shopping experience.
Partnerships and Affiliates: Coupons can be used in partnership with affiliates or other businesses to mutually benefit both parties and expand your reach.
Customer Data Collection: When customers use coupons, you can collect valuable data about their preferences, purchasing habits, and demographics, which can inform future marketing efforts.
WooCommerce discount coupon code is a versatile and effective tool for boosting sales, building customer loyalty, and enhancing your marketing strategies. When used strategically, they can drive traffic to your store, increase conversions, and help you stay competitive in the e-commerce landscape.
The 7 best WooCommerce discount coupon code plugins
Smart coupons by StoreApps

Coupon Pro for WooCommerce by Fantastic Plugins

YITH WooCommerce coupon email System

Smart Coupons for Woocommerce

WooCommerce Smart Coupons

Programme de parrainage par code promo by wp swings

Coupon shortcodes by Itthnix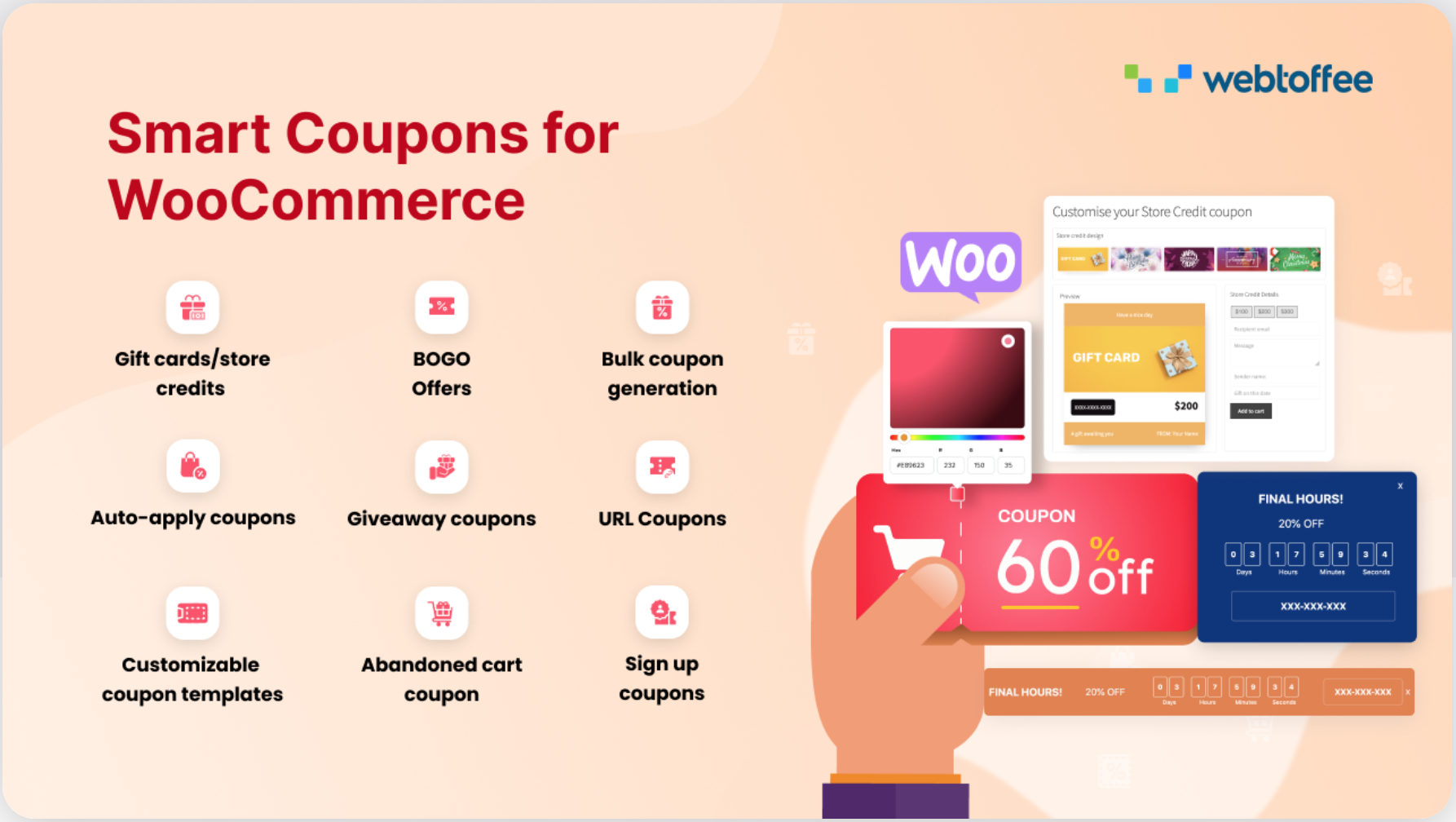 Smart Coupons for WooCommerce plugin is geared towards helping you create smarter marketing strategies with its features and functionalities. As customers purchase from your online store you can create coupons based on your customer behavior, this would definitely keep your customers returning to your store.
Another great feature this plugin offers is that it can be used to enable your customers to purchase store credits for later purchases and also in the place of refunds.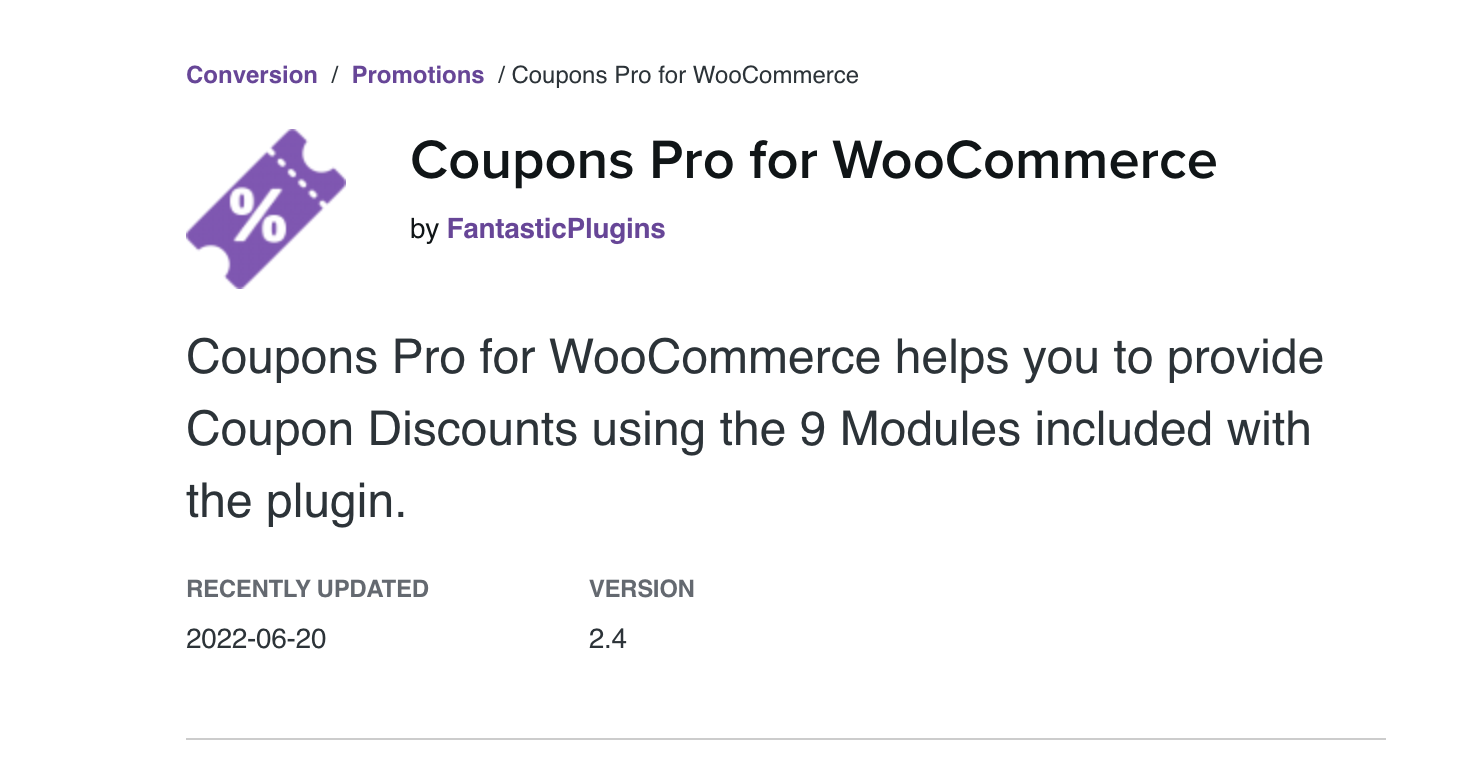 Coupons Pro for WooCommerce plugin allows you to set up Woocommerce discount coupon codes on your online store using the modules included within the Plugin which are; product page coupon, re-engagement coupon, collect and save coupon, bulk generate coupon, product purchase coupon, birthday coupon, URL coupon, action coupon, referral coupon e.t.c.
With this plugin's Product Page module, you can provide discounts on your products. You can also re-engage inactive customers by encouraging them to revisit and purchase your product with its 're-engagement coupon module'. You can also offer discounts to your customers when they refer new users to your online store with its Referral Coupon module.
YITH WooCommerce Coupon Email System plugin is a plugin that enables you to set up Coupon discounts, targeted at encouraging your customers to purchase from your store by sending strategic coupons on occasions of specific events, e.g: birthdays to make them feel special.
With this strategy, you can loyalize your customers and encourage the registration of new customers. It is a good, easy, and efficient marketing strategy that lets your customers or registered users remember you, and in that way encourages them to purchase from your store.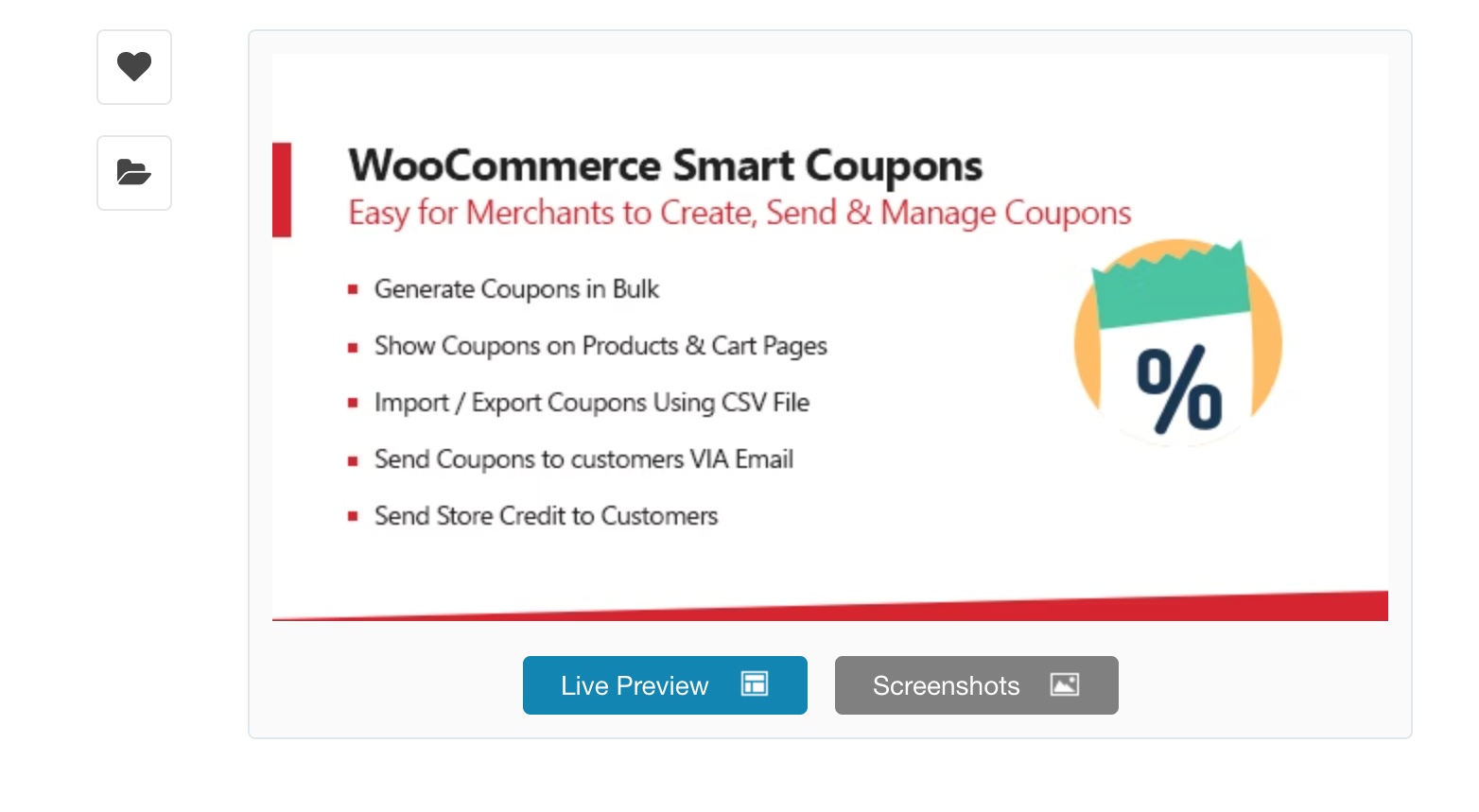 WooCommerce Smart Coupons Plugin has many options. It allows you to easily generate coupons in bulk and send them to customers via email. You can impose daily, weekly, monthly and yearly coupons on your products and also limit usage per user.
This Plugin allows you to show coupons on Products and you can import and export Coupons to your online store using the CSV (comma-separated values) file format. You can also send store credit to your customers. In short, this plugin has many other features.
Programme de parrainage par code promo is a WooCommerce discount coupon code plugin by Wp swings, in English, it is interpreted as WooCommerce coupon Referral plugin.
It's a WooCommerce discount coupon code plugin that when installed on your Woocommerce store, allows your customers earn various coupon rewards for every activity they are involved in on your online store. For example, customers that share referral links are rewarded.
A mind-blowing fact about this is that it rewards both the referrer and the referred. This will help your online store to achieve a strong customer base, improve the loyalty of your customers, and most importantly expose your brand more to the market.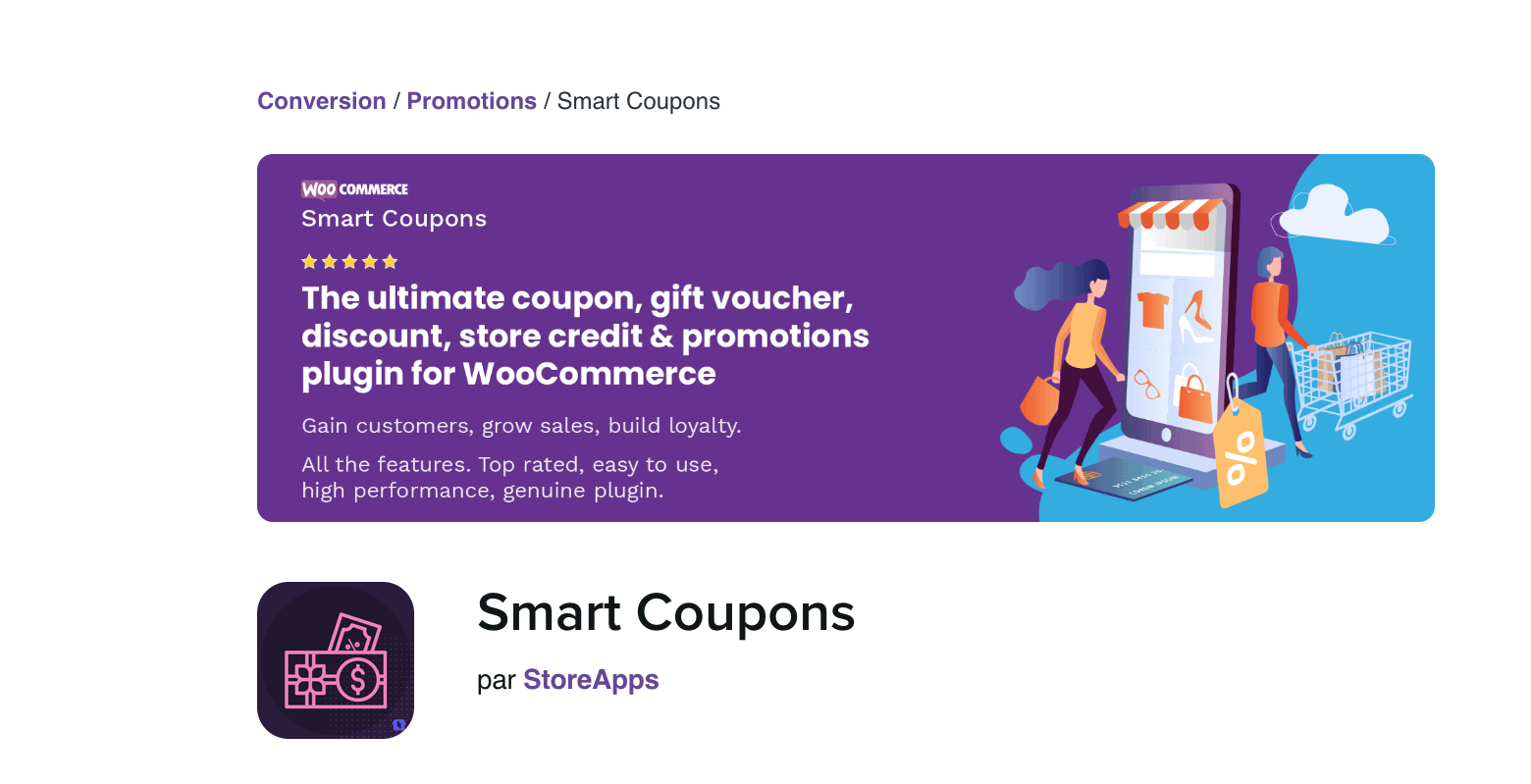 Everything you need from discounts, credits, gift cards, freebies, offers, and promotions, this plugin provides all these features.
Smart Coupons plugin allows you to set up sales of gift cards on your online store. You can generate and issue lots of promo codes and free vouchers. It also has many options to enhance basic Woocommerce promo codes. It automatically generates and issues Woocommerce discount coupon codes, store credits, gift certificates, gift cards, vouchers, and discounts for future purchases, which is ideal for repeated sales.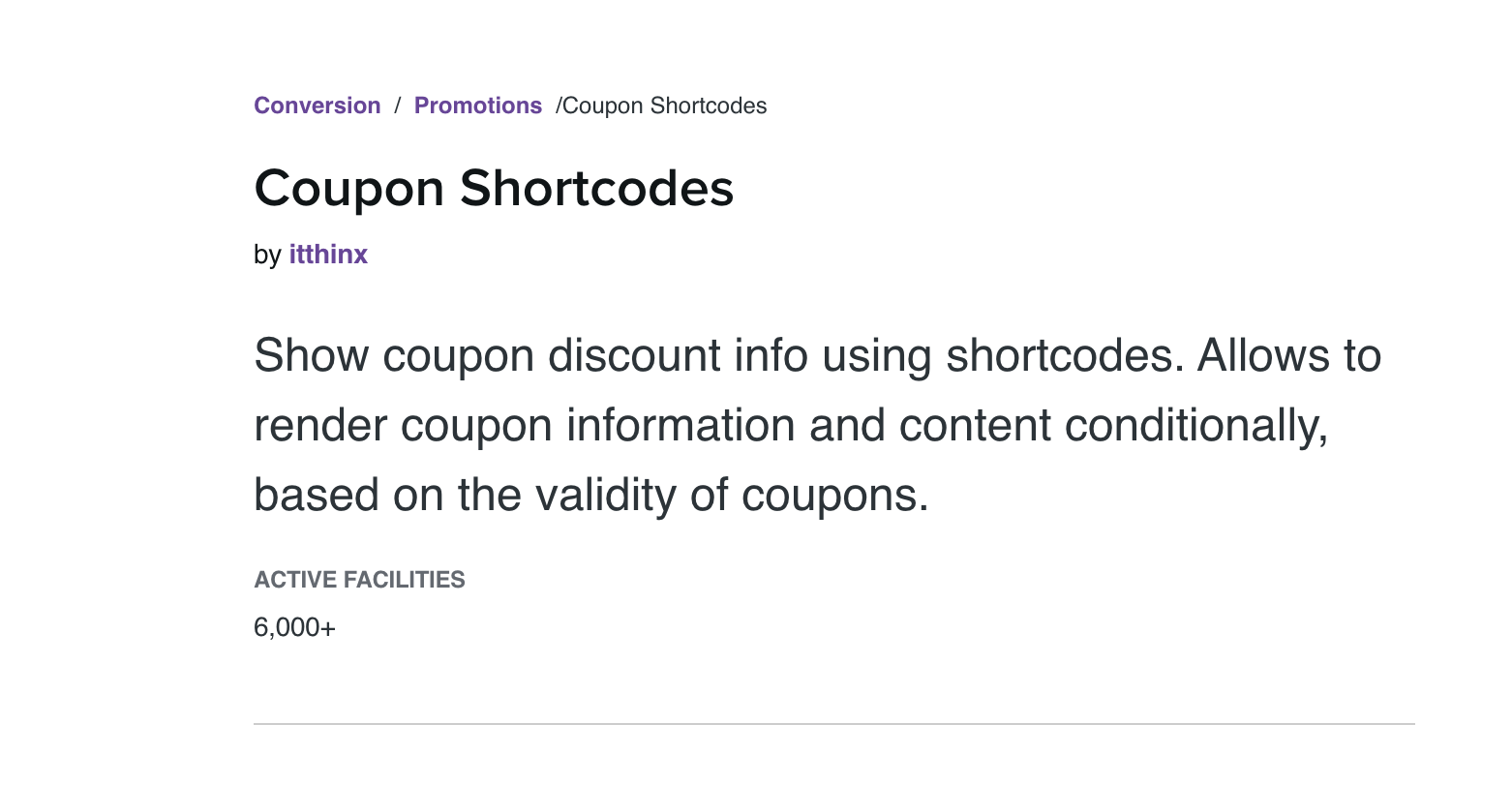 The Coupon Shortcodes by itthinx plugin allows you to show enclosed coupon information in shortcodes validating the specific coupons on a particular product in your words. In other words, it is a plugin that allows you to display a series of coupons that are specific to your online store.
This plugin enables you to give information about a set of coupons using informational shortcodes to encourage customers to purchase on your online store when they are able to match up with the validity of the specified coupons placed on the content they intend to purchase.
Conclusion
WooCommerce discount coupon codes are very effective marketing tools that can help your business increase its sales and customer base. You can also nudge your inactive customers to renew or buy more from your store, thereby increasing your loyal customers. Coupons offer a lot of opportunities but getting the right coupon plugin to achieve the result you want for your business is very crucial. I hope this article helps you decide.
In case you want to try other ways of offering discounts, such as; free gifts, BOGO deals, bulk discounts, and many more. You can check out this article, it explains all the 20 types of discount deals there are to know about.
We will be looking forward to your comments and questions below. Thank you for reading!