Table of Contents
In an ever-evolving world of e-commerce, businesses are constantly seeking innovative ways to attract customers, increase sales, and enhance customer loyalty. One such strategy that has gained significant attention is WooCommerce dynamic pricing.
This powerful strategy allows online store owners to adjust product prices in real-time based on various factors, providing a tailored shopping experience for customers and boosting revenue for businesses.
Commercial businesses always revolve around the concept of buying and selling goods. This services two major key players which are, the first is the seller "the person giving out a particular product or service at a given fixed price" and the second is the customer  "the person buying the desired product at its given price".
Dynamic pricing involves the customer's demand, which determines the amount of the product the seller will give out to the customer and the pricing of the product itself.
Customers can choose to purchase a particular product or service in a small and retail quantity or they can decide to buy it in vast and wholesale quantities. In doing this the seller provides a flexible pricing system that would fit into every customer's demand because as the saying goes different strokes for different men. 
Several woocommerce dynamic pricing plugins offer wholesale pricing options that every WooCommerce store owner can use to create a flexible pricing option for their stores.
In this article, we will look closely at the ability to offer wholesale prices with the top WooCommerce dynamic pricing plugins. 
Below are the Top WooCommerce Dynamic Pricing Plugins offering Wholesale Pricing options in the WordPress Domain:
Conditional Discounts for WooCommerce

Tiered Pricing for WooCommerce

Wholesale for WooCommerce Lite

Woosuite Dynamic Pricing & Discount Rules

WHOLS-WooCommerce Wholesale Prices

WooCommerce Wholesale pro

Wholesale suite-WooCommerce Wholesale Prices& B2B Plugin

WooCommerce Tiered Pricing Table

ELEX WooCommerce Catalog Mode Wholesale and Role-based pricing (Free)

Premmerce Wholesale Pricing for WooCommerce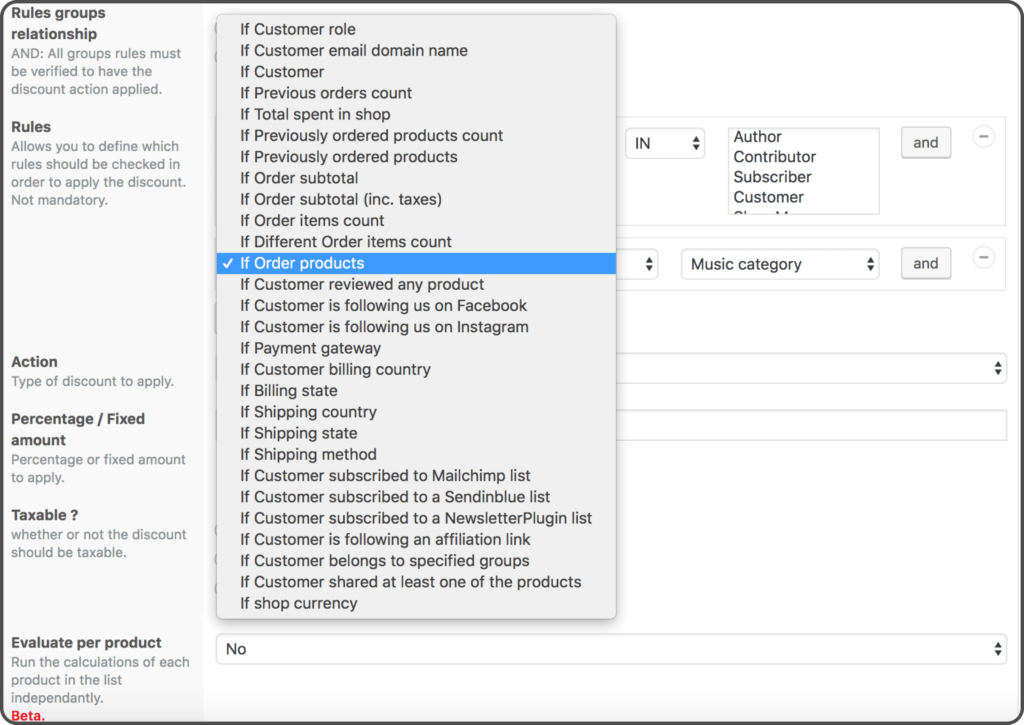 The Conditional Discounts for WooCommerce is a plugin that will help you when setting up a wholesale or bulk discount feature on one or all of your products. 
When wholesale users visit your WooCommerce store, they receive discounts on goods purchased. You can also set your pricing to 'pricing by quantity'.
If you are looking for a Woocommerce dynamic pricing that offers this discount type, one that will meet your store's needs, this plugin allows you to create any discount type for your WooCommerce store.
Tiered Pricing for Woocommerce Plugin is a plugin that helps you set up a tiered pricing system on your online store, which allows you to provide discounts on the prices of the products available on your online store, based on the quantity of the goods bought by your customers. 
This plugin allows your customer to view the discounts placed on the price of the quantity of the product that he/she wants to purchase on your online store.
The plugin helps you to provide discounts on your products based on the quantity of your products. That way, customers can view the product based on the quantity of the product.
This woocommerce dynamic pricing plugin allows you to create several rules that help you maximize the quantity of the products that have been bought from your online store. You can create different pricing categories based on the quantity of the products which would be in tiers, therefore, allowing your customers to buy more in bulk, and at the same time, they can save more money.
Wholesale for WooCommerce Lite is an easy-to-use WooCommerce dynamic plugin that is quite efficient. It is free and allows you to display individual prices for variable products.
It has several features like adding wholesale prices to the different variations of the variable products on your online store. You can add a percentage amount, and you can also add a fixed amount, the displayed amount. Wholesale prices are only visible for customers with the 'Wholesaler role'.
This Plugin is convenient for online store owners who want to facilitate the wholesale pricing option on an e-commerce store.

WHOLS Wholesale Prices is a plugin that allows you to set up wholesale prices on your e-commerce store, you can set up prices for simple and variable products. It also displays the amount of money the Customer saves after purchasing a particular product on your online store. 
Whols allows free shipping for Wholesalers, hides the prices of Wholesale products from guest users, and does the same for general products too (you can hide the price of a general product from Wholesale Customers).

This Woocommerce Dynamic Pricing plugin called Woosuite Dynamic Pricing and Discount Rules is a plugin that can help you set up a default quantity per product on your online store. You can also set up a discount rule on when, and to whom the discounts can be applied on your online store.
The plugin also allows you to create and apply different prices on a particular product to customers, based on their user roles, as they purchase the product on your website. 
Customers can also buy products at discount prices when they purchase in bulk on your online store.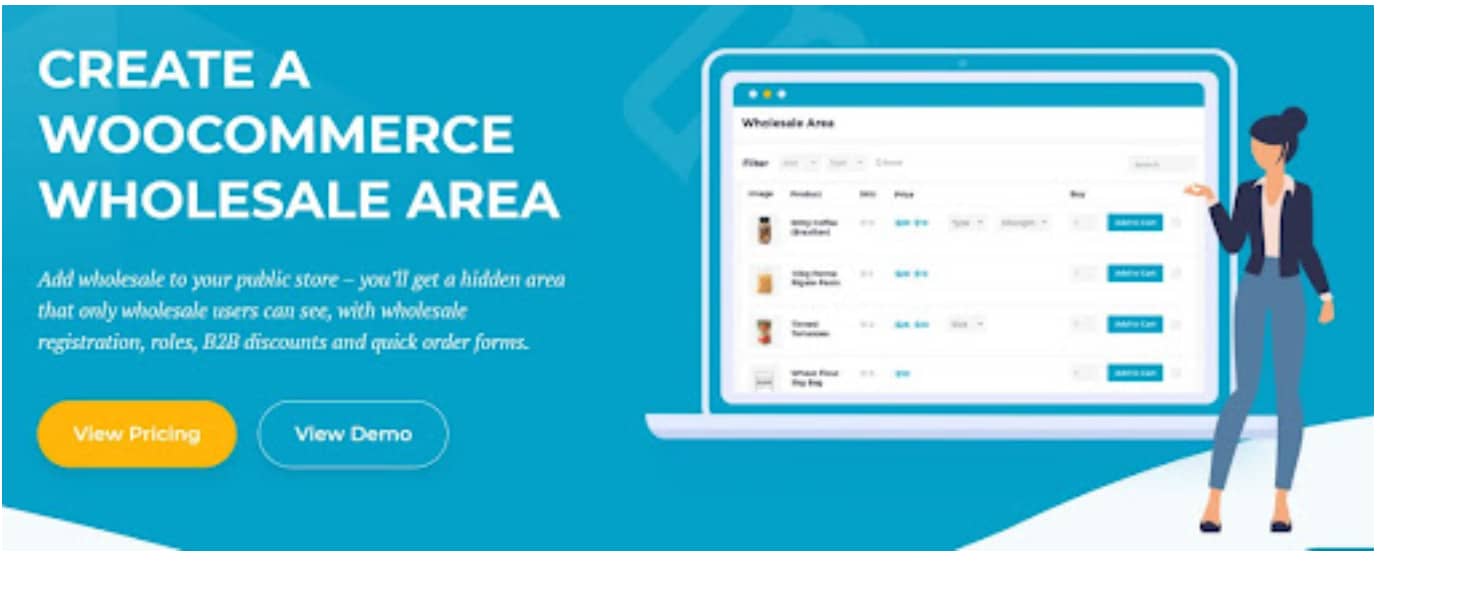 WooCommerce Wholesale Pro allows your online store to create numerous wholesale roles and customer categories with unique pricing and discounts. It also allows you to control who sees every part of your online store, you can hide several categories, coupons, payments, and even shipping.
It offers a wholesale form that allows your customers to register on your store as wholesale buyers, which now enables you to tend and create better privileges for your wholesale buyers. 

WooCommerce Wholesale Prices is a plugin that helps you create a pricing field on your online store, and assign a wholesale price to every product on your online store. Henceforth, you can now assign a wholesale user role to your customers so that when they want to purchase in a wholesale capability, the prices are automatically updated.  
It works for both simple and variable products, it is also compatible with drop-shipping and currency conversion.

This plugin helps you set prices on your online store based on the quantity of the product purchased by the Wholesale Customer.
 With this plugin, you can specify different prices on the amount of products purchased from your online store.
The plugin has a price display table option, where you can show your customers the unique prices you set on specific quantities of the products on your online store. It also comes with a customization option.

This is a WooCommerce Wholesale pricing plugin, that allows you to create custom user roles, for example; student, businessman, teacher, company executives, etc., and enables you to set up individual prices for these roles, so that each user can see the price that falls under there specific role.
This plugin also helps you add price adjustments to the individual user roles, you can also set tax classes and tax display options on the individual user roles you created.

The Premmerce Wholesale Pricing plugin can also be used to set up different user roles and their prices on your online store, but it also enables a store owner to set up a custom user role and assign a price option to it.
If you want something simple for your e-commerce store, this plugin is a deal.
CONCLUSION
For e-commerce store owners venturing into WooCommerce Wholesale Pricing integration, it's advisable to explore free plugins and consider premium alternatives.
 If you are looking for dynamic pricing tips for your Woocommerce, opting for premium solutions opens up a plethora of additional functionalities that can be integrated into your online store. 
This expansion empowers you to enhance your rapport and engagement with Wholesale Customers, offering an extended array of choices to cater to their needs.